It's the end of November already and I am so disappointed that I wasn't able to make typical fall things. I really don't think there is any better time to bake than during the fall. The days are getting cold, but there is still warm sunshine to motivate you. People will still willingly step out of their houses on their days off and with all of the colors- including rosy red cheeks, bright red sweaters and rainbow leaves there is excitement in the air.
Not to mention the seasonal flavors. They go well in savory dishes. They go well in sweet ones. Hot, cold.With coffee and tea.A dinner roll and wine. And then its Thanksgiving.
And yes, it's Thanksgiving. In a few measly days and I haven't made pumpkin empanadas, pie pops, or chestnut pumpkin soup. No apple pie. No candied apples.
So what's a girl to do with a brand new oven and a nice warm Sunday in an apartment filled in sunshine and a cool breeze ushering in the noise from the street below? FYI-sunny in China…that's reason for motivation!
I wanted pumpkin pie and I wanted an apple something. So, I decided to bring all of fall to me in one dessert. And I ate it with coffee. Then I had a second one. And I didn't even feel guilty because asides from sugar, this only has 2 tablespoons of butter for five or six apples!
I actually made these twice because the first time the apple didn't have enough texture. In case you haven't noticed, I'm big on the word¨texture¨. I can't help it though. Mush on mush? That's not very appetizing.
But, after adding a crumble that had candied almonds to the bottom and the top of my apples…this thing turned into EXACTLY what I wanted. Melted apples in their chewy skin, cinnamon, ginger and pumpkin pie filling just slightly custardy, and the crumble in the apple turns this creation into something similar to a pumpkin lava cake in an apple if you serve it while it's still warm. It also has a slightly caramelized cobbler top. Please feel free to add a whopping dollop of whipped cream to this along with a few more crushed candied almonds and send me the results. I would if I could, believe you me.
Oh yes, and if you feel like using pecans instead of almonds. Yum. You have my blessing.
On a more technical note-this makes a LOT of pumpkin pie filling-I didn't want to halve it due to the odd egg ratio and risk changing the pie consistency. I recommend making a pumpkin pie for the next evening. The pie filling can be made the night before and I only used candied almonds because I had made them a few days before. I'm still perfecting my candying technique and experimenting with sweetners, so for now you can head on over to Chow Divine For the original candied almond recipe.
You can easily adjust the cobbler recipe if you wish to fill more apples to use up all of that pumpkin pie filling.
Happy Thanksgiving Week everyone!
Pumpkin Lava Cake Baked Apples
A melt in your mouth apple, filled with fall flavors of pumpkin and spice and are topped with a caramelized almond cobbler.
Author:
Curried Cantaloupe
Ingredients
5-6 medium sized apples
Pumpkin Pie Filling (makes enough for an entire pie…or 6 apples and a slightly smaller pie, I estimate about 18 apples):
2 cups pumpkin puree
1 cup milk
½ cup packed brown sugar
⅓ cup sugar
2 eggs plus the yolk of 1 egg
2 teaspoons cinnamon
¼ teaspoon nutmeg
2 teaspoons fresh, minced ginger
Cobbler/Lava (Makes enough for 5-6 apples):
2-3 Tablespoons butter, melted
1 egg
⅓ cup flour
½ cup sugar
¼ teaspoon salt
⅓ cup crushed candied almond bits (or pecans)
Instructions
Preheat your oven to 190°C or …°F.
Homemade Pumpkin Pie Filling: Whisk all of the ingredients together. You can use homemade pumpkin puree or store bought. The choice is yours. Mine was cubed, boiled, and blended. Worked like a charm. I didn't pay attention to pumpkin variety, but you can use sugar pumpkin if you live in an English speaking country where you can get one of these.
Cobbler: Whisk egg and slowly add cooled butter. It can be warm, but it should not be hot. Then add the other ingredients and stir until everything is wet. Set aside.
Assembly: Remove core from apples and then, using a grapefruit spoon or a teaspoon, slowly carve out the apple until you have a small bowl. Try to get the sides as uniform as possible. The more you carve, the more filling you'll be able to fit in. This will depend on your personal tastes. Also, the thicker the wall, the more your apple will need to bake before it is ready.
Then, fill each one with a spoonful of the cobbler mix. Layer in some pumpkin pie filling and set the apples one by one on a baking tray that you first put in the oven (carrying the tray to the oven with the apples may result in some unnecessary spillage). Bake for 10 minutes.
Remove the tray carefully from the oven-the pumpkin pie filling will still be liquid. Add a nice dollop of the cobbler to the top and sprinkle with the crushed candied almonds. The cobbler will kind of half sink into the pie-I wiped each spoonful of batter onto the side of the apple so some of it would stick and turn a deep golden brown on the top of the apple. Pumpkin pie may splash over the edges of the apple-that's okay. If you let the tray cool, you'll get a very nice pumpkin cookie you can nibble at as you clean up.
Bake the apples for another 30-40 minutes. I took them out at 30 minutes because the top of the cobbler was looking pretty dark and I didn't want them to burn, but the apple was still not quite as soft as I would have liked. So, I put them back in the oven in the evening after dinner for 10 minutes at 150°C and they were nice and soft.
Serve warm with freshly whipped cream or vanilla ice cream.
This week I'm linking up to: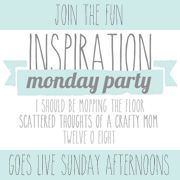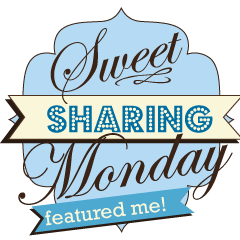 Friday Favorites@Simply Sweet Home
Related posts: